Design Perspectives, Inc.
Grounded in Creativity!
It is more than just our marketing tag-line; it is our mantra, our reason for being in business. Since starting out as modest start-up business in 2003 to a highly efficient firm located in Naperville, our growth over the past decade has been the direct effort to focus on the client by affording them a quality experience and a surprisingly creative outcome to their project. We have worked with hundreds of clients in our across the country, helping them to achieve success. It is extremely important to us that our clients receive our very best.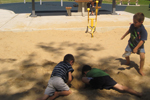 services

Design Perspectives can adapt to any project and fulfill the individualized attention that you and your project Deserve!