Design Perspectives, Inc.
Discover Design Perspectives and gain a whole new point of view. Whether your project needs a creative place for fun or requires beautification, Design Perspectives' creative process leads to improved use of space. You'll work with a dynamic professional team that meets your deadlines, thrives on challenge, is detail oriented, budget sensitive, and creative from the ground up.
Design Perspectives, an award winning Naperville, IL based firm with clients across the nation, offers a common sense approach for achieving effective results in the following areas:
Commercial Landscape Architecture
Parks & Recreational Planning & Design
Comprehensive Planning & Research
Design Perspectives is small enough so that your project receives hands-on personal service and responsiveness directly from the owner. And, it is large enough to offer considerable expertise in a wide variety of areas.
As a comprehensive consulting company, we offer numerous additional services including: feasibility studies, grant writing, green roof planning and design, conservation storm water designs, and much more. Feel free to ask us for information on these and other services you might need so we can better assist you with all of your projects.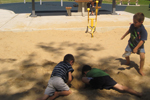 services

Design Perspectives can adapt to any project and fulfill the individualized attention that you and your project Deserve!